TSA Approved Luggage Padlocks
TSA (Transportation Security Administration) is a section of the USA's Homeland Security set up in the wake of the September 11th attacks back in 2001. It's to ensure that visitors to the USA comply with their rules and regulations and are not smuggling anyting into the country that is prohibited.
In padlock terms, it basically is a method that authorised personnel from Homeland Security can check your bags without having to cut your padlocks off. A specic key that is available only to them is used to unock the padlock (whether combination or key) so that the contents can be checked and then the padlock reapplied for your lugagge to continue securely back to you.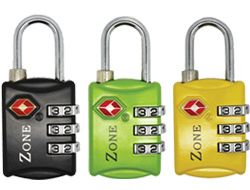 Our budget TSA approved padlocks are available in three colours black, green and yellow. Whether you wat to match your luggage or make it stand out form the crowd, this is entirely up to you.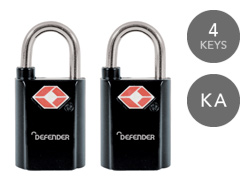 A pair of TSA approved padlocks with four keys that will open both padlocks. Ideal for travelling with a couple of cases and you only reqire one key to open them both.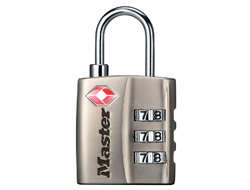 A change from the norm of boring black TSA padlocks, this nickel coated approved padlock adds a little bit of flair to your travels.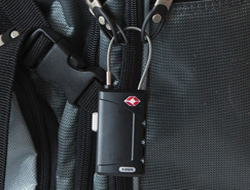 This is the cable verison of a range of premium quality TSA locks from ABUS. The nice thing about this model is the small luggage label on the reverse of the lock!
This is a premium quality padlock by ABUS Germany. It has a very reliable mechanism for frequent use and comes with the "indicator" which tells you if US Airport Inspectors have opened you bag.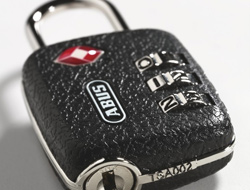 This is perhaps the best or most premium TSA lock available. ABUS haven't spared any expense making this function well and look sexy! If a lock could be sexy that is.