We have a few of our most popular padlocks designed with extra long shackles to enable them to be used in situations when standard length types are to restrictive. It is important to remember that by having a longer shackle it will make attacks by bolt-cutters and saws easier. These types of padlock are the complete opposite style to the Closed Shackle Padlocks which restrict attacks but additionally make the padlock less versatile.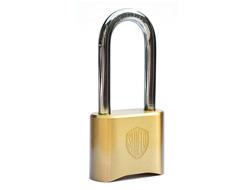 The long shackle version of our best selling medium security combination padlock. Uses a solid brass body, a hardened shackle and resettable 4 digit code which can only be changed by the holder of the special reset key provided.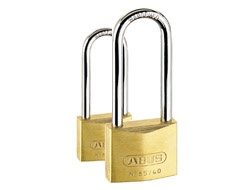 This long shackle variety of our best selling product offers tough, reliable security at a competitive price with added flexibility. The brass casing and interior stainless steel mechanism also make it highly resilient to all types of weather.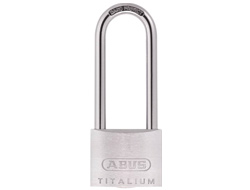 These are the longer shackle version of the standard Titalium padlocks. They are basically the same lock made from the same special alloy offering excellent security in a lightweight and strong body. Available from 30mm to 5mm body widths.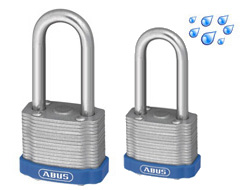 The 50mm long shackle version of our ABUS Eterna lock which benefits from the high security of a solid steel lock but the full weatherproofing of a marine grade coating also. A lock that meets many needs.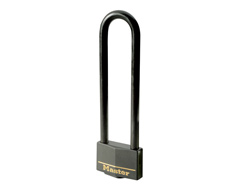 Especially design for securing oil takes where the hasps are far apart but a good level of security is required. It looks like a small long shackle lock from the image but in fact it is an 80mm wide body over 195mm long and uses a huge 15mm thick shackle!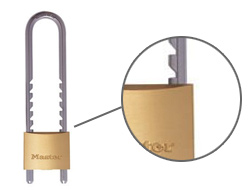 A only adjustable shackle padlock on the market made by Masterlock. It allows you to alter the shackle length from 70-155mm long and reduce the excess play for added security.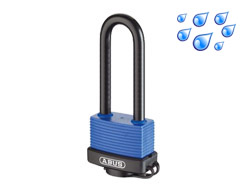 100% rust-free Abus plastic-coated Aquasafe padlock with the added flexibility of an extended stainless steel shackle. Ideal for securing any vehicles, trailers, outdoor storage areas or boats that are subject to sea water and other more severe weather and environmental conditions.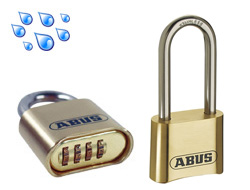 The long shackle version of the ABUS weatherproof padlock suitable for all outdoor and extreme weather environments. 4 digits also make it highly secure as a combination padlock in any situation which can only be reset once open and using a special key provided.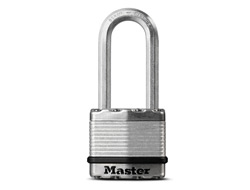 The long shackle version of Masterlock's Excell laminated padlock incorporating a strong octagonal boron-carbide shackle for extra protection against bolt cutter attacks.
The long shackle version of our world leading Granit Padlock uses an ABUS Plus disk cylinder with 250,000 key variations and keys that cannot be copied. These are often used on shipping containers due to the longer shackle and the fact the shackle can be entirley removed from the body. The shackle and body are made from hardened alloy steel and are insurance approved up to CEN Grade 4.

Insurance Ratings:
- BSEN 12320
- CEN 4