Locks form bicycles vary greatly and you often need to choose between weight and security. Many of our locks are insurance approved to Thatchem and Sold Secure but often two medium security locks are better than one high security model. An ideal situation is to have a lightweight lock for when you are on the move and an additional high security lock and chain for leaving it overnight.
A low cost and convenient 3 digit combination cable for bicycles and gates. A plastic sheath gives it additional protection from the weather.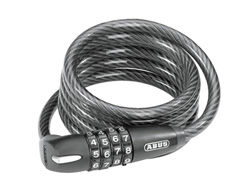 An excellent 1.5 meter cable with an integrated 4-digit combination lock allowing you to set your own pin. Ideal for a range of applications including bicycles or gate security.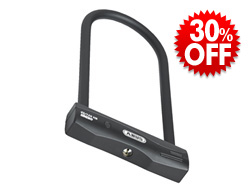 A high quality U-lock primarily designed for bicycles. Features a 12mm hardened steel bar and is independently tested as a Sold Secure Bronze grade. Also includes a frame fixing bracket.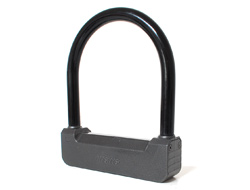 This is an extra wide D-Lock with an integrated alarm. The large internal clearance of this D-Lock makes it ideal for gates or bikes.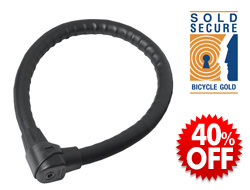 The Granit edition of the Steel-O-Flex series with a Sold Secure Gold rating. It is resistant to saws, bolts cutters and the added security of a ABUS Plus locking mechanism makes it impossible to pick.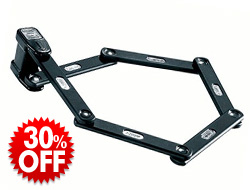 A revolution in flexible security and ideal for locking up bicycles. The solid nature makes it much stronger than its cable and chain counterparts. Also comes with a frame mountable sheath.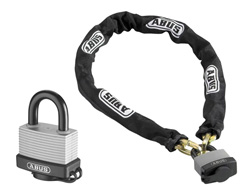 A weather resistant expedition padlock and chain set ideal for security gates and bikes. The plastic coated padlock can stand up to extended periods outdoors with added protection against grit, sand and soil.
Motorbike locks tend to have similar specifications to the high security bicycle locks and both are interchangeable. However, since weight is often not as much of an issue for a motorcyclist the best and most secure option is a separate padlock and chain tested to a highCEN Rating.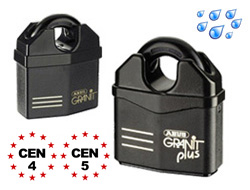 The world leading Granit Padlock uses an ABUS Plus disk cylinder with 250,000 key variations and keys that cannot be copied. The shackle and body are made from hardened alloy steel and these closed shackle versions are insurance approved up to CEN Grade 5. This latest model is also a fully weatherproof marine grade padlock with a cataphoretic coat to provide 40 years of corrosion resistance!

Insurance Ratings:
- BSEN 12320
- CEN 4-5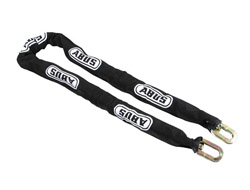 Square link high security chains with a fabric sleeve. Constructed from hardened steel for the highest security against all types of aggressive attacks. Fabric sleeve prevents damage to paintwork and chrome of gates and motorcycles.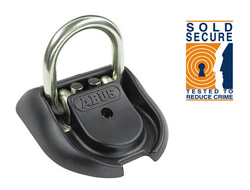 This wall anchor is a Thatcham Approved and Sold Secure Gold rated product and designed to be as secure as the most heavy duty chains and padlocks. It can be attached directly to a wall or the floor and is ideal for securing valuable machinery and motorbikes.